How do Start-Up Costs work for Small Business?
This is a very simple Startup Costs worksheet. When you start a new business you have the option (only once, and only the first year) to take all of your startup expenses and to spread the tax break out over several years. There are restrictions on how this works (see an accountant or tax professional).
You also need to know what these startup costs are used to determine the price of your products. The startup costs are part of your fixed costs category when you're pricing your products. To figure out these numbers out, write out all of your equipment and tools in one category. Note any large expenses that are over $500 for a single tool or machine. Keep the receipts in a binder. There are special rules for these when you file your taxes in the first year.
Then fill out your startup materials, and your startup packing and shipping materials. If you have other categories, for example, office supplies write those down too. Keep the receipts in a binder.
Then total up each section. The large equipment expense can be spread out over it's expected lifetime, or less. To figure out the best amount of time to spread out the cost see this example of starting a sticker company.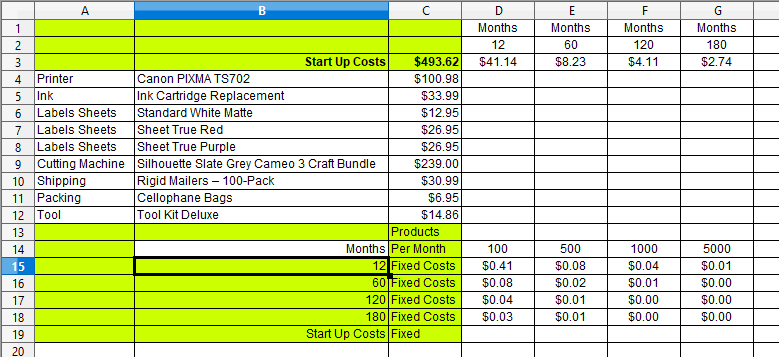 In this example none of our startup costs are over $500, so we calculated the total startup costs as a monthly expense over 12, 60, 120, and 180 months. Then we've estimated how many products a month we might make or might sell, and calculated out what the fixed startup costs per product would be if we spread the costs over 12, 60, 120, and 180 months. Since the start-up cost is relatively low we would probably use the 12-month row when determining our start-up fixed costs to add to our products, and as a startup business, we would start with the product column for 100 items.
Whichever number you decide to work with, record it, you will need to use it consistently when calculating the price of your products.
***** Standard disclaimer. I am not an accountant. I am not a tax professional. We are offering this very simple printables to help you get started, and to help you collect all the information you need to take to an accountant or tax professional. Please (PLEASE, PLEASE, PLEASE) talk to a tax professional if you have tax questions, and an accountant if you have any other accounting questions. We have been winging this small business thing for several years by reading all the booklets and papers put out by the IRS and accountants. We are not experts. ****
Hits: 70